We have released the Piapro Studio NT 3.0.0.7 updater.
We have released the "Piapro Studio NT version 3.0.0.7 updater".
Please look for the update by launching Piapro Studio with menu [Help] -> [Check for Updates].
In this update, we've added the "Vibrato (beta)" feature.
It is now possible to set vibrato in notes and change its parameters in the following way: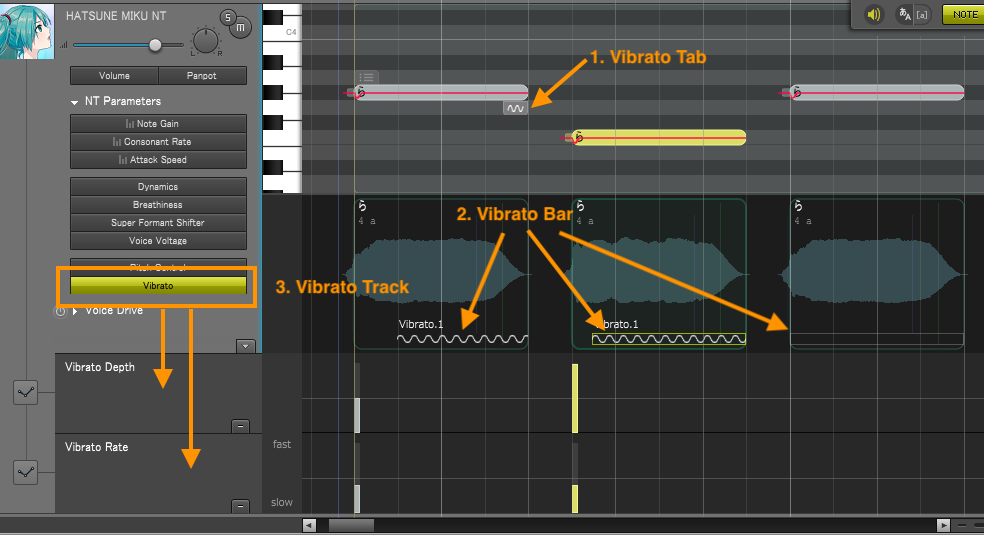 1. Vibrato Tab
You can turn on/off vibrato by double-clicking the "Vibrato Tab" that appears at the bottom right of the note when you move the mouse cursor over the note.
When you do these operations while more than one note is selected, you can apply the settings to all the selected notes at once.
2. Vibrato Bar
You can turn on/off vibrato and switch vibrato presets the same as "Vibrato Tab" at "Vibrato Bar" displayed at the bottom of the Note Info Track.
You can also adjust the length of the vibrato by dragging the left end of Vibrato Bar with your mouse.
3. Vibrato Track
You can set depth and rate (frequency) of the vibrato for each note.
About Initial Vibrato Value
When the vibrato is turned on, the Automatic Vibrato settings at "Preferences" Panel apply to the settings of vibrato preset and vibrato length.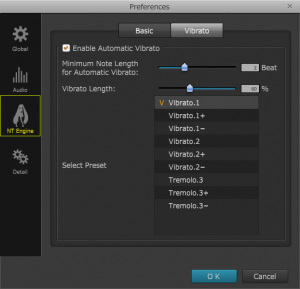 For users who can't update via automatic update, please inquire at your dealer on how to get the zip file.