How to use VOCALOID3 Voice Libraries other than Crypton Products
From Piapro Studio version 1.2.0, you can assign any VOCALOID3 Voice Library to the track (*1), including VOCALOID2 Voice libraries which are converted to VOCALOID3 format(*2).
As for VOCALOID3 Voice libraries other than Crypton Products (Crypton Products such as HATSUNE MIKU V3 or KAITO V3 etc.), you can get a special "Access Key" that can be applied for via the website SONICWIRE.
SONICWIRE is website service run by Crypton Future Media.
The Access Key is free. Following the procedure below, the library can be used in Piapro Studio instantly.
1) Click the Singer Icon on a track and open the "VOCALOID3 Track Settings" window.
2) Icons with the "Key" symbol indicate VOCALOID3 Voice Libraries which yet have no Access Key.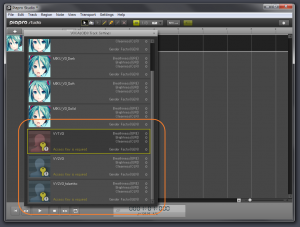 3) Click on the Singer that you want to enable.
4) The "Apply for Access Key" window opens.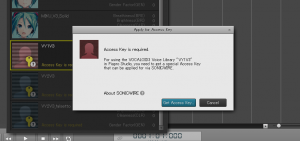 5) Click on the [Get Access Key..] button.
6) The page "Apply for VOCALOID3 Voice Library Access Key" opens on the SONICWIRE website in your web browser.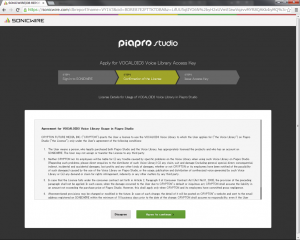 7) Confirm the licence agreement and click on the [Agree to continue] button.
8) Now the Access Key for the selected VOCALOID3 Voice Library will be displayed.
Copy the high-lighted Access Key.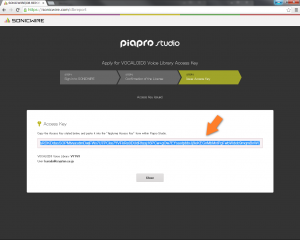 9) Then you need to switch back to Piapro Studio and paste the copied Access Key into the "Apply for Access Key" window, then click [Apply Access Key] button.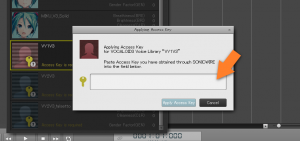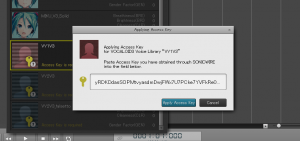 10) The "Key" symbol on the Singer Icon dissapears and now the Voice Library is ready for use.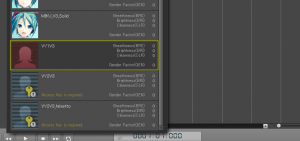 Once you follow this procedure for each Voice Library, you can use it from there at any time.
(*1)
– You need the Mac versions of the VOCALOID3 Voice Libraries in order to use it on a Mac environment.
– Spanish/Korean/Chinese lyrics translation is not supported for version 1.2.0 of Piapro Studio.
We will support these Voice Library languages via updater.
(*2)
Importing VOCALOID2 Voice libraries is only supported on Windows OS.
Please find more information directly on the YAMAHA Corporation site.
(*3)
You may be able to get the Access Key again in the case of that your PC environmnent was changed, such as exchanging a hard drive.